Trust
God
from the bottom of your heart;
don't try to figure out everything on your own.
Listen for
God
's voice in everything you do, everywhere you go;
he's the one who will keep you on track.
Worship Ministry
This ministry leads the congregation in relevant contemporary praise and worship.
Our "live" band helps lead the way for the Holy Spirit to move in our services.
Do you have a gift of worship?
Can you sing or play an instrument?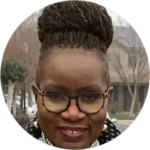 Devonne Fields